Gloster
Despite the difficulties presented by the COVID-19 pandemic, Gloster remains open for business with full production and shipping capabilities. The company is also producing masks and other protective equipment for use by first responders in the state of Virginia.
Gloster first made a name for itself as a company by producing finely made, classically styled, all-teak outdoor furniture. These timeless designs still make up a portion of what Gloster produces, but in the years since the company's founding they have grown to produce much more than just all-teak furniture.
Gloster now earns its reputation as one of the world's top outdoor furniture producers through the use of a variety of the highest quality materials and through longstanding relationships with its stable of world-class furniture designers.
While Gloster's design styles may have changed over the years, the focus on producing resilient and durable outdoor furniture has not. Every piece of Gloster furniture is designed to be fully weather resistant and to be left outside all year round.
American Eye Inventory
AmericanEye has limited availability for some Gloster collections. Click on the images below to check the availability of these lines.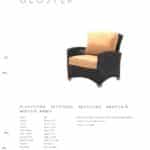 VENDOR WEBSITE