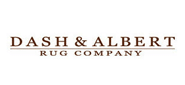 Dash & Albert
We are a spirited, design-driven family of companies that creates enthusiasm through our timely and timeless lifestyle products and our caring commitment to people and process. Our mission drives our business, and our profitability feeds our mission.
We believe your home should make you happy.
The best way to achieve that happiness is by surrounding yourself with people, pets, and products you love. For nearly 20 years, we've applied our spirited, design-driven approach to creating bedding, rugs, sleepwear, and home furnishings for you (and us) to love—stylish pieces that stand out and stand the test of time. We are committed to quality—beginning with the initial design and choice of materials to our fast and friendly delivery, topped off with our exceptional customer service. We are defined by and take pride in each step of the process and the people who make it happen.
An Annie Selke Company
VENDOR WEBSITE