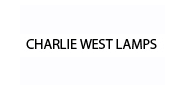 Charlie West Lamps
Charlie has been a potter since 1986 when he got his start as an after school employee at Sims Pottery in Gillsville, Georgia.
He began throwing flower pots and later turned to folk pottery.  In 1998, Charlie began turning his handmade pottery into stylish lamps and this led to the begining of Charlie West Lamps.
We, at Charlie West Lamps, are proud to offer quality handmade lamps.  Each lamp begins as a piece of clay.  Charlie then hand turns each piece on the pottery wheel.  Once the piece has been fired, glazed and re-fired in the kiln, it is then ready to be made into a beautiful, one of a kind lamp.
One of the beauties of handmade pottery is that each piece is unique.  If a pair of lamps are needed, they need to be ordered as a pair for them to match. Kiln atmosphere affects the outcome of the final glaze, so the colors in the glazes may vary slightly from firing to firing, however, they will be similar.  The sizes and shapes may also vary on each piece, which is another reason lamps need to be ordered in pairs if they are going to be used together.
The glazes used are another work of art in themselves.  Charlie and his wife Honey, are constantly experimenting with new ideas to keep the colors exciting and unique.  All lamp styles are available in any of our glazes.  This makes our lamps work with almost any design, from modern to traditional.  Be sure to check the website from time to time to see the newest glazes and lamp styles.
Most of our lamps are mounted on a wooden base which is hand turned on a wood lathe.  The bases are then painted and waxed in our shop to meet the needs of each lamp.
We offer several styles of shades.  They are pictured with the lamps and can be changed to meet the needs of the customer or design.  We offer hardback painted shades in oyster, taupe and black.  We also offer linen and burlap shades.  Lamps may be purchased with or without shades.
Charlie's work has been featured in magazines such as Veranda, Southern Living, and Southern Accents. We wholesale to retailers and interior design firms throughout the country. If you are interested in purchasing, please contact us for more information.
VENDOR WEBSITE