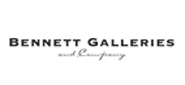 Bennett Galleries & Company
OPEN FOR PRODUCTION AND SHIPPING – Rick Bennett began in 1976 with a small custom frame shop.
Gradually he started adding things to put into the frames he sold. He enjoyed experimenting with the sense of scale and color. Then he met and married Jeannie, a former corporate interiors consultant.
In 1987 they moved the business into a small strip mall on Kingston Pike, where together they grew in inventory and reputation. Always desiring a place of their own to create Bennett Galleries, they considered other locations and cities. "We decided Bearden was where we wanted to be," said Jeannie Bennett. "It's where we live, where we shop. You walk into stores and people really do know you by name."
In 1996 the Bennetts purchased the vacant Capri Cinema. The huge building was also a huge challenge. With uncommon vision and a lot of hard work, the slanted floors strewn with old popcorn gave way to a 35,000 square foot design space. But in spite of the size, the gallery has a cozy feel. Individual displays combine the traditional with the contemporary, European designs with American crafts — extraordinary vignettes that demonstrate the perfect mix Bennett Galleries is known for.
Rick Bennett has spent years traveling the world, establishing relationships with artists, craftsmen and small family-owned furniture makers, bringing to Bennett Galleries one-of-a-kind pieces for your home. Whether traveling in Italy or France or throughout the United States, the Bennetts are constantly on the lookout for people who still do hand-made work. Every piece is unique, each with its own story. And this search for the unusual, for top quality merchandise has filled the gallery with unique works of art, fine furnishings, distinctive jewelry and crafts. Bennett Galleries also offers exceptional interior design services. And, of course, we still specialize in custom framing.
VENDOR WEBSITE